Sample Letter of Recommendation (LOR) for Masters (MS)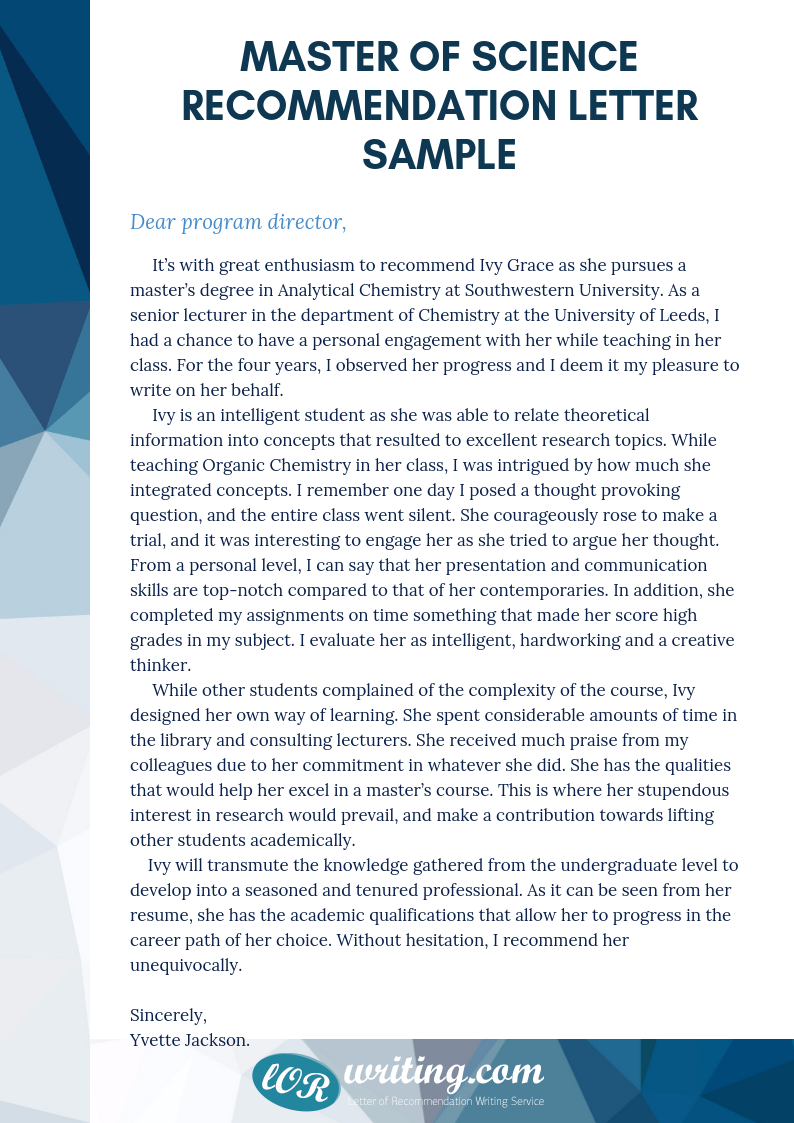 Letter of Recommendation (LOR) is an important aspect of the application process while applying to study abroad for Masters (MS). No matter which country, university, or program you may apply for, your recommendation letter can be a deciding factor for whether you will be accepted or not.
Sample LORs for MS are provided in this article for reference along with important points to be taken care of while working on the recommendation letter.
Note: The mentioned samples are just for reference and students should not copy the letter to just fill it with their details. It would not convey the unique aspects of your profile and thus, can reduce your chances of acceptance.
---
Sample LOR for MS from Professor
To whom it may concern,
It is my immense pleasure to support XYZ's candidature to your institution for Master's in Computer Science program. Currently, I hold the designation of Deputy Head at the Department of Information & Communication Technology in ABC Institute. Even though it has been more than 3 years since I taught and guided XYZ, I still clearly remember him for his innovative ideas which he showcased as a student.
I met XYZ when he enrolled for Network Technologies elective during his 6th semester of his undergraduate studies. Though the course was for 6 months, we interacted several times outside the classroom. He also reached out to me post his graduation for professional guidance. He was not only a competitive student but also showed impressive grasp of technical concepts.
I recall that XYZ was a step ahead than most of his peers when it came to experimenting with his learnings. In the 7th semester he implemented his knowledge of TCP/IP protocols, wireless networks, etc. which he acquired during Network Technologies course to develop a couple of software applications. In one application, which was an Android Chess game, he made a multiplayer application where two users could connect their phone wirelessly and play the game in real time. In the other application, he developed a chat module using TCP/IP in which user could chat with the admins of the app. He would often come to me for guidance during the development of these applications. I felt proud as a teacher to see my student practically implementing his classroom learnings.
XYZ was well recognized among the juniors. He actively guided them in their studies or projects whenever they approached him. He was always calm and composed, so the juniors always loved to interact with him. I was also impressed with his time management skills. He would always be on time for his classes and never failed to meet any deadlines. Despite having multiple assignments to complete in a semester, he would neither delay the submissions nor ask for extra time.
Besides the course work, he attended workshops and participated in technical events. His love for Android programming even won him an award in one of the hackathon contests organized by the Computer Science Club, IECSE of our college in 2017. He was also a member of the Lions Club of the college and actively participated in various social causes.
It does not come to me as a surprise that even after 3 years of professional work experience, he is still eager to pursue Master's in Computer Science. I strongly recommend XYZ for his graduate studies in your institution. His keen desire to explore and learn will take him far ahead in life. I wish XYZ all the best for his graduate studies. Please feel free to contact me in case you have any queries on this recommendation.
Sincerely,
Recommender's Full Name
Designation – Department
Institute's Name
Contact Information
Attributes to mention in an Academic LOR for MS
Notable performance in subjects related to the applied program
Technical and research projects worked on
Co-curricular achievements
Research papers published, if any, in reputed journals
Soft-skills and professional attributes
---
Sample LOR for MS from employer/manager
To whom it may concern,
I'm pleased to write this recommendation in favour of Mr. XYZ, who directly reported to me for two years during 2016-18 at ABC Pvt. Ltd. I do have an experience of more than 10 years providing IT solutions in the manufacturing domain. XYZ joined our organisation as a fresher out of college and did assimilate well in a very short span of time. He was quick at understanding the work requirements as a SQL developer and dealt with process areas in SAP ECC like Order-to-Cash, Material Master etc.
In addition, he directly interacted with business analysts from onshore countries for gathering technical requirements and providing the required solutions in a timely manner. He worked on building Extraction, Transforming and Loading job flows using SAP Hana on Cloud/ BODS and using SQL views for data migration from one business to another entity due to acquisitions. After noticing his growing improvements, quick optimization of historic code and exhibition of emotional maturity, he was promoted from Associate to the Analyst position.
Good inter-personal skills along with a curious mindset to learn about new things were his core strengths. He often conducted S2S sessions for underprivileged students educating them with essential/ basic IT skills at Hope Foundation (NGO) at Neelasandra, Bangalore which is associated with our organisation.
XYZ would be an asset at your prestigious institution. I'm confident that he'll excel at the endeavours he takes up even post his master's program and I do wish him all the very best.
Please feel free to contact me if required further information and discussion.
Sincerely,
Recommender's Full Name
Designation – Department
Organization Name
Contact Information
Attributes to mention in a Professional LOR for MS
---
Key Points for LOR based on applied MS program
Depending upon the program that you may be applying for, you will have to highlight various key points of your profile. This will help to position your application in accordance with the program requirements and thus, can help improve the effectiveness of your recommendation letter.
Masters in Mechanical Engineering
Knowledge of design and analysis tools
Areas of specialization – Design, Materials, Thermal and Fluid Power, etc.
Process optimization worked on
Masters in CS
Masters in Civil Engineering
These documents are very crucial for your candidature and drafting them the right way is very important. Get the help you deserve with Yocket Premium Counselling Services. Book a 15 minutes free consultation call with our experts and know how you can draft the documents with our assistance.