Gibson Research Releases InSpectre | Daves Computer Tips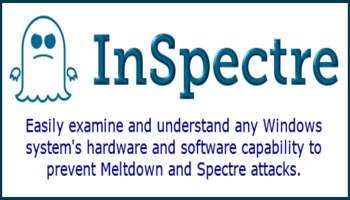 InSpectre
InSpectre is another Windows utility you can use to check the status of your system in regard to the recent Meltdown and Spectre threats which take advantage of common CPU design flaws.
InSpectre has a few advantages over many of these types of utilities in that it can enable, or disable, the "fixes" which have been foisted upon us by Microsoft. I do not recommend disabling these updates, though.
Note: To enable these features, you will have to run this utility with Admin Privileges. (Right-click and choose Run as administrator.)

InSpectre Main Screen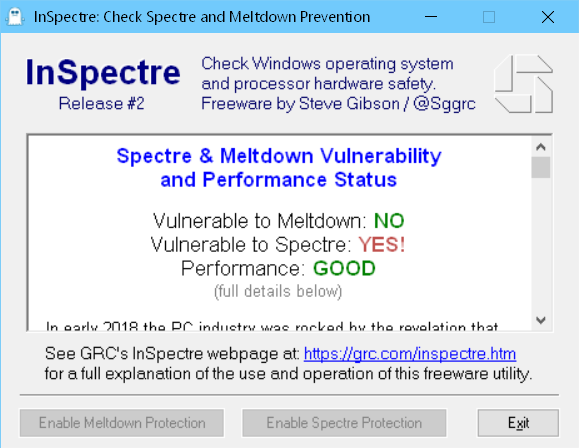 Upon running InSpectre, it immediately displays a screen showing you if your system is vulnerable. It also shows you, based on an analysis of your computer, if you will suffer a performance penalty by installing these patches. Newer systems will probably not notice any difference and the biggest performance penalties will probably be suffered by those who are still using the likes of Windows 7 and 8.x.
By scrolling down in the program, you will be advised in more detail about specifics related to your computer.
As usual, Mr. Gibson is meticulous, and this tiny utility is no exception. The beauty of Steve's work (I'll call him 'Steve' and hope he won't mind the familiarity), is that he comes from the days when RAM and drive space were a premium commodity. Just about anything you install these days is at the very least hovering around 1MB in size. This little program is roughly 122KB! Talk about lack of bloat! I am constantly impressed with how much bang he can pack into a tiny package. His programs are all written in Assembly language and are, therefore, compact and as fast as they can be.
InSpectre is free and does not require any installation. Simply download it and run it. It is blazing fast and will offer its information in under a second.
How To Get It
Go to this GRC InSpectre page to get your free copy. I see there is now a release #4, but do not see the reasons for the latest releases after #2. Never fear, Steve will be on top of that in no time.
An aside: While you are visiting his site, be sure to check around for an immense amount of security information straight from the expert's mouth. And free programs, too! Here is the GRC Home Page link.
When it comes to computer-related security, there is no better source than Steve Gibson, in my humble opinion. I have been a fan for many years.
Richard
—