Engelmann Photo Blowup Review & Giveaway
Winners Announced!
[message type="info"]
This contest has now expired. Winners will be notified by eMail
Ken Purvis
Hovsep Avedissian
Brian Merskey
Steve Knapp
Shawn Irfan
Congratulations to the Winners and Thank You to everyone who participated!
[/message]
Engelmann has generously offered our DCT readers a chance to win one of five licenses for their Photo Blowup software. These licenses are currently valued at $33.33 (US) each.
"Photo BlowUp reconstructs the details of your images and allows a magnification of up to 700%! Even if you have high-resolution pictures and want to print poster photos on canvas or XXL posters, you quickly reach the limits of your pictures and the prints look pixel or unclean. And that's exactly why we developed Photo BlowUp: Change the image size and get brilliant and sharp images!" ~ Engelmann
This contest will be active beginning Monday, August 26 and will expire at midnight Thursday, September 5, 2019.
System Requirements, Features
Compatible with Windows 10, Windows 8.1 and Windows 7 (both 32- and 64-bit)
Includes Photoshop plugin for Photoshop and compatible programs like Paintshop Pro, Corel Photo Paint, and Corel Draw
Besides JPG, BMP, TIFF, PCX and GIF, many RAW formats are supported, e.g.: raw, crw, orf, 3fr, nef, raf, mrw, nrw, dng, cr2, arw, x3f, rw2
Installation
Installation is fast and easy. Agree to their ToS and Privacy Policy and click the Install button. when the installation has finished you will be asked for a license key to activate the program, or you can click Try to give it a chance for a day which should be plenty of time for it to show off its stuff.
Ease Of Use
Main Screen
When you first run Photo Blowup the main screen defaults to your My Pictures folder. I have highlighted a few other items on this screen other than the familiar directory in the left panel:
Program options
Sorting options
Layout options
Clicking the Help button in the upper-right corner will open a page on the Engelmann site which describes the functions of the program.
I don't keep my images in the My Pictures folder, so we'll go elsewhere to find them.
Enlarging A Small Image
Here is one of my favorite little froggy pictures. The original dimensions are 150 x 107 pixels and it is a JPG file:
The JPG format compresses images and loses some detail in the process. This is especially noticeable where text is involved as you can see in the above image of my little friend. (I live a simple life, don't ya know.)
Here is the image blown up to an incredible 900 x 642:
That's 6x the original and the quality has been maintained according to the original. The text is probably no worse for wear than it was in the original photo. That's a truly amazing result!
Here is a comparison of the results from Photo Blowup and from another program I usually use to manipulate images: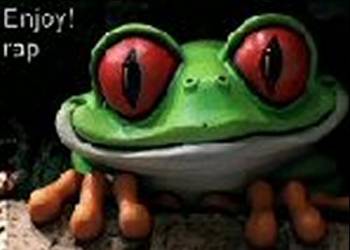 I think the Photo Blowup result is clearly the better one. (You can click on these images to see them enlarged.)
Conclusion 👍
Photo Blowup does what it says it will do right out of the tin.The examples in this post were using a very small, poor quality image. The results will vary wildly but if it works this well on a poor image, imagine how good larger, more detailed images will become.
I like programs that are focused on one single task. "Do one thing at a time and do it very well." That's Photo Blowup in a nutshell.
How To Enter The Contest
We'd appreciate it if you'd take a moment and submit a comment telling us why you'd like to win Photo Blowup. However, submitting a comment is not required to enter this contest and will have no bearing on your chances.
For your chance to win, simply enter your name and a valid email address in the spaces provided below, then click Enter Contest. After your entry is accepted you will be presented with options to share the contest on Twitter and/or Facebook. For each person who enters the contest as a result of your share, you will earn two (2) extra entries!
Sharing the contest on social media is completely voluntary, but is encouraged.
Competition Rules:
To enter, simply submit your name and a Valid email address. Your address will not be shared outside of this site


You must submit a VALID email address. We need to contact the Winner, so disposable email addresses will not be eligible

Additional entries may be earned by voluntarily sharing on Facebook and/or Twitter

Shortly after the contest ends, the winner(s) will be chosen at random

Winner(s) names will be posted on this giveaway page. Please check back here to see the winner(s) name announcement!
The winner(s) will be notified by email at the email address used to enter the contest – be sure to use a valid email address that you check regularly
Winner(s) must claim their license within five (5) days. After the five (5) day period, unclaimed prizes will be distributed at DCT's sole discretion

Entrants agree to allow DCT to communicate with them via email using the address provided by the entrant when entering the contest
[contesthopper contest="94913″]
Good luck to everyone!
—