Declutter your hard drive with 'Should I remove It'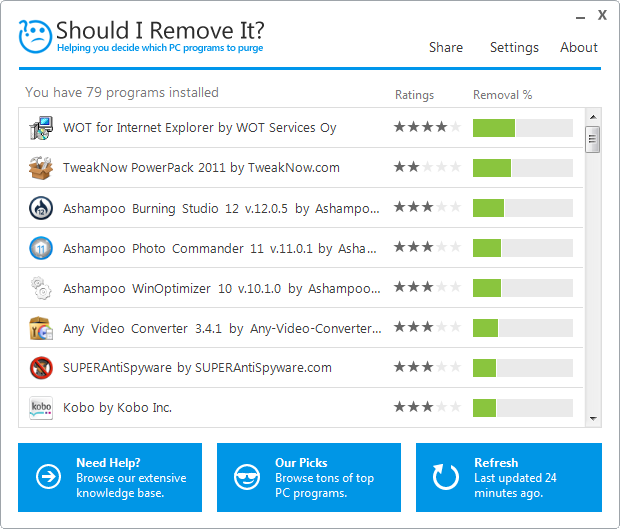 Many of my clients, whose machines I deal with from time to time, have little or no idea about many of the programs they have installed or what they actually do. These programs are accumulated over a period of time and many are superfluous or have never been used — it seemed like a good idea at the time.
'Should I Remove It' is a great little free program to help with the chore of removing superfluous, unnecessary or unwanted software, and generally declutter the hard drive. Download is a 1.7MB executable which scans 100% clean through Virus Total. Installation is straightforward and clean with no bundling or nasty surprises to worry about.
Should I Remove It – the software
At first run, Should I Remove It (henceforth referred to as SIRI) automatically scans the machine and then presents a list of installed software ordered by the average user rating in combination with a percentage of users who have decided to remove it.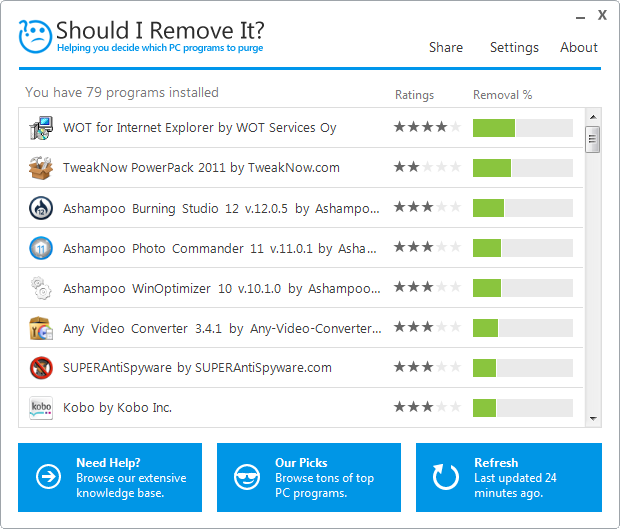 You will also be taken to this page: http://www.shouldiremoveit.com/install-thankyou.aspx , which describes what SIRI does and how to use it. Basically, installed software is rated by color coded bars and percentages as ascertained from SIRI's user database. The bars follow the usual color coding, from Green to Amber through to Red – Green representing the least removed, and Red the most removed.
The main screen will present you with a list of the programs on your PC that will be ordered in the list by both the average user rating in combination with the percent of users that have decided to remove it. The ratings are based on both everyday users (you can rate it on the web site) as well as a band of PC power users. Don't take the ratings and Remove % at face value and simply remove a program because other do. If you use the program and enjoy it does not necessarily mean you should remove it (unless it is malware of course).
In those cases where the user is unsure of what the software is or does, just click on the listing and two new buttons appear, "What is it?" and "Uninstall".
Click on the What is it? button and you'll be taken to a SIRI database page which describes the software, what it is and what is does, in detail: http://www.shouldiremoveit.com/TweakNow-PowerPack-2011-17599-program.aspx
If you really want some in-depth details about the program, click the 'What is it?' button. This will open the program page on the "Should I Remove It?" web site where you will find a ton of in-depth information about the software from what it is, what it does, how it works, what it installs and even aggregated demographic and usage statistics. This information should help you make a more informed decision about whether or not you will want to keep or remove it.
Once you've got all the facts and decide to remove the program, click the Uninstall button and SIRI will remove the software from your hard drive for you.
Just click the 'Uninstall' button. This will trigger the program's built in uninstaller. You will just need to go through the removal steps if the program requires it. After uninstallation is completed, "Should I Remove It?" will attempt to do some basic maintenance to make sure the software was completely removed from your PC.
SIRI does not run continuously in the background so utilizes very little in the way of system resources. Updating the list of installed software is a simple matter of manually running SIRI and clicking the Refresh button at bottom right of the interface.
Conclusion
For starters; hats off to the developers for presenting a thoroughly clean installation, which is the exception these days rather than the rule. For novices and all less experienced users, SIRI is a terrific, near indispensable tool to help with decluttering the hard drive. Almost as good as someone like myself coming to your house and doing it for you. 🙂